Join Us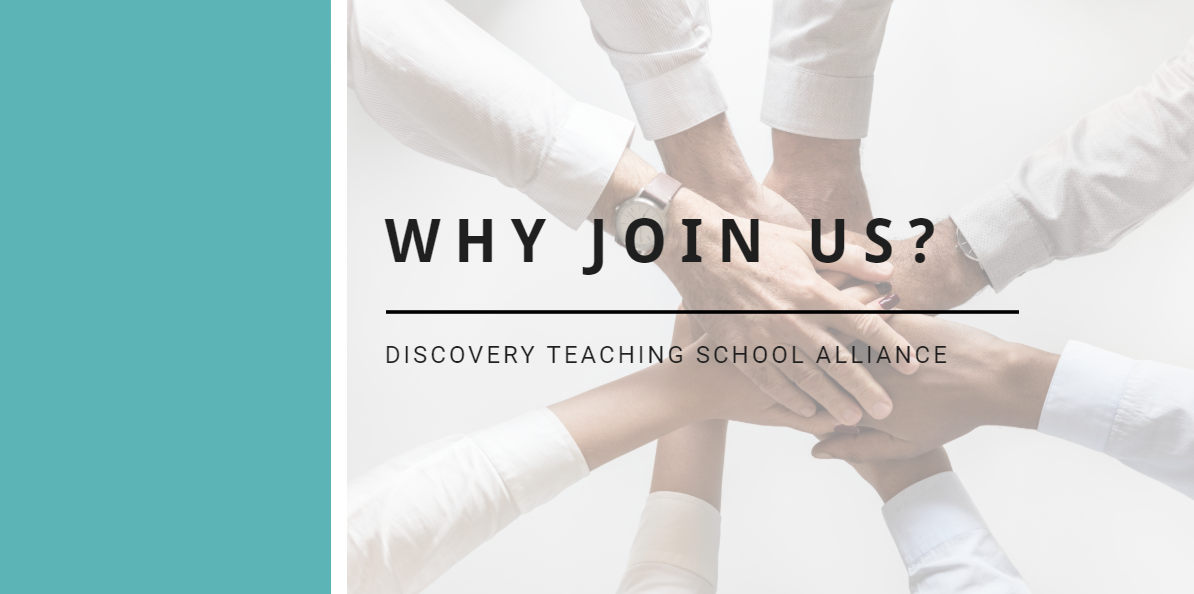 The story so far...
Our team of SLE's (Specialist Leaders of Education) has been growing steadily since 2014
We run OTP (Outstanding Teacher Programmes)
We are the Secondary SENCO network
We offer School to School Support
We offer training for SLE's in the Eastern Region
Our courses and programmes include:
Team Teach
Makaton for professionals and parent/carers
ADHD training
SEN Conference
Autism Training
ITT, NQT, SLE, NPQML, NPQSL, NPQH Programmes
Where we would like to go...
We aim to share what we Discover and want you to Discover it with us.
Ensure every child has the chance to attend a good school
Increase the number of schools in our Discovery network
Develop a strong primary network
Support and develop newly qualified teachers
Design and pilot Discovery OTP (Outstanding Teacher Programme) across the network
Coordinate and deliver high quality school-based ITT (Initial Teacher Training)
Develop and provide teacher subject specialism training
Give opportunities for CPD (continuing professional development) based research projects
Use marketing and advertising to increase Discovery presence
---
TESTIMONIALS
SEND CONFERENCE - 2018
"Fantastic range of varied content, excellent value for money"
"Good opportunity to network with colleagues"
"Great selection of speakers"
---
NPQML - 2018
"I greatly enjoyed being part of the NPQML training this year. The full course was impeccably organised, in such stunning venue as the Hinchingbrooke House. Communication was fluid between the administration and the participants, which made everything much easier. We were equipped with valuable resources, including a generous online platform that supported each face-to-face session and led us to understand each session in greater depth.
Having Richard as a presenter made a difference to many of us. He offered outstanding expertise in every session and his advice was so valuable towards completing each stage of the course and later, the final assessment. He guided us and provided top quality support in both face-to-face sessions as well as the mentoring phone calls he organised in between. I was awarded NPQML in March this year and I am ever so thankful to Richard and everybody involved in the organisation. The training, support and guidance provided has given me the tools to be a more effective and confident leader and I look forward to continue furthering this knowledge in my new role next year as a newly-promoted Head of Department"
---
NPQSL - 2017
"I am genuinely enjoying the NPQSL course. Each of the face-to-face days has been exceptionally well planned and a great opportunity to discuss a whole range of leadership and pedagogical matters with colleagues. It has been nice to have the time away from the day-to-day chaos in order to discuss all these things and it has been great working with colleagues from other schools. Richard Brown is great and plans a range of activities, also ensuring we work and mix with different people. He has also been extremely attentive and supportive with our projects, making time to speak to us individually about our progress."
---
TEAM TEACH - 2017
"I wanted to write and thank you for the Team Teaching training at Spring Common on 3rd and 4th July. Both members of staff commented on how useful it was and the high quality of the delivery."
---
ST PETER'S SCHOOL, HUNTINGDON - 2016
Due to the successful bid through Discovery TSA in March 2015, St Peter's School has been able to purchase additional training and support which resulted in the following:
a) TEACHING AND LEARNING
The quality of teaching and learning has risen overall currently (April 2016) 80%meeting expectations. The areas identified for development have been observed and externally verified.
Differentiation in 63% of lessons - up from 47% September 2015

Challenging the most able in every class 73% of lessons – up from 43% in September 2015

Extended writing 90% of opportunities observed to be taken
b) COACHING OF STAFF
The Outstanding Teacher Programme (OTP) was used to train staff to become effective coaches. These staff have been allocated additional non-contact time allowing them to work in a wide variety of areas. All staff who have been coached have demonstrated progress. The coaches have worked with 17 staff this year with all moving up a category, eg from 'Good' to 'Outstanding' and from 'Inadequate' to 'Requires Improvement.'
This outcome has been triangulated through lesson observations, work scrutiny and the progress of students. An external verification of this outcome has taken place.
c) MIDDLE LEADERS
This support has recently resulted in two members of staff completing the NPQML and NPQSL. One member of staff has since secured a position as an Assistant Head Teacher as a result of the skills they acquired in the NPQSL course.
Christopher Bennett – Principal of St Peter's School